2016 – December 7-10, Grand Chancellor Hotel, Hobart, TAS (Joint ASM with HBPRCA and AVBS)
TO DOWNLOAD FULL FINAL PROGRAM AND POSTER LISTING CLICK HERE
Keynote Speakers confirmed to date below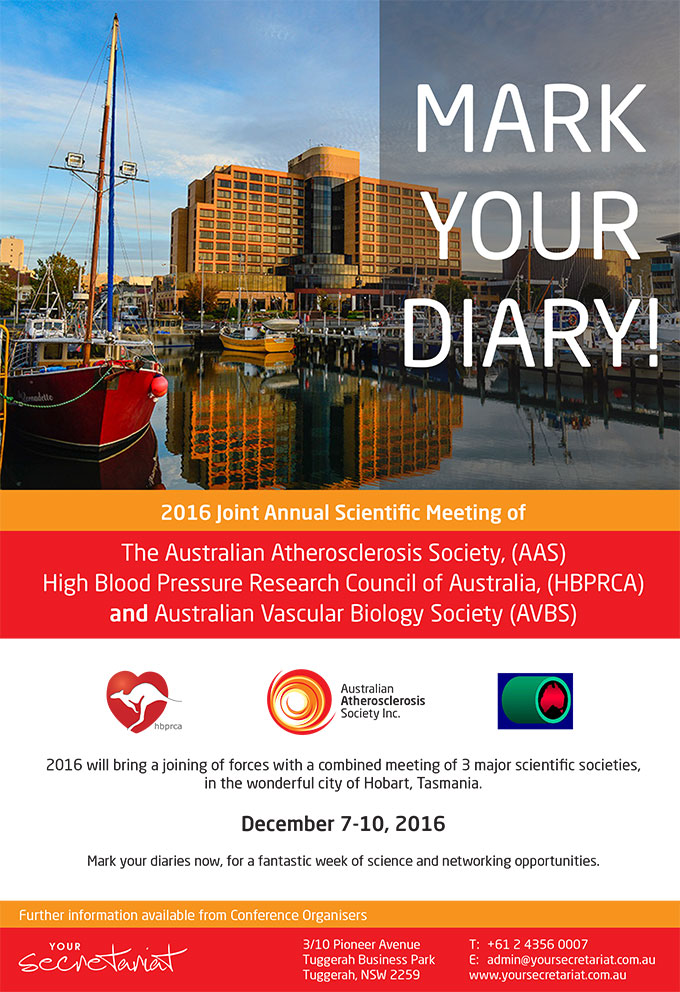 Confirmed Keynote Speakers:
Prof. Jean Pierre Despres, Canada
Jean Pierre Despres is a professor at the department of sciences of food and nutrition at the Laval University in Montreal, Canada. He is also director of research at the Institute of Cardiology at Laval Hospital, and director of the research center on lipidic diseases.
A/Prof. Jonathan Shaw
Jonathan Shaw is Associate Director of Baker IDI and has been practising at the Clinic for the past 10 years. A/Prof. Shaw is Co-Chief Investigator of the AusDiab Study, the largest population-based study in Australia examining the natural history of diabetes, pre-diabetes, heart disease, and kidney disease.
Prof. Kathy Griendling, USA
Kathy Griendling is currently a Professor of Medicine in the Cardiology Division of Emory University, and a Fellow of the American Heart Association. She serves as an Associate Editor for Circulation Research and is one of the Executive Editors of Antioxidants
and Redox Signaling. She is Vice Chair for Research and Faculty Development in the Department of Medicine and Assistant Dean for Faculty Development in the School of Medicine.
Prof. Craig Anderson
Craig Anderson is Director of the Neurological and Mental Health Division at The George Institute for International Health, and Professor of Stroke Medicine and Clinical Neuroscience in the College of Health Sciences at the University of Sydney and Neurologist (Director of Stroke Services) at Royal Prince Alfred Hospital.
RD Wright invited Lecturer: Prof. Sir Nilesh J Samani, UK
Nilesh Samani is British Heart Foundation Professor of Cardiology and Head of the Department of Cardiovascular Sciences at the University of Leicester. He is also Director of the Leicester National Institute for Health Research (NIHR) Biomedical Research Unit in Cardiovascular Disease and Consultant Cardiologist at the Cardiac Centre, Glenfield Hospital, Leicester.
Colin I Johnston invited Lecturer: Prof. Chris Semsarian
Chris Semsarian is a cardiologist with a specific research focus in the genetic basis of cardiovascular disease. Prof. Semsarian trained at the University of Sydney, Royal Prince Alfred Hospital, and Harvard Medical School. A focus area of his research is in the investigation and prevention of sudden cardiac death in the young, particularly amongst children and young adults. Prof. Semsarian has an established research program which is at the interface of basic science and clinical research, with the ultimate goal to prevent the complications of genetic heart diseases in our community. Prof. Semsarian is the director of two speciality clinics at RPAH: The Genetic Heart Disease and Hypertrophic Cardiomyopathy Clinics.
Austin Doyle invited Lecturer: Prof. Alan Cooper, SA
Alan Cooper has been an Australian Research Council Federation and Future Fellow (2005-2010, 2011-2014), during which time he has specialized in the genetic analysis of evolution, biodiversity,climate change, paleoecology and microbiomes.